La conferencia que ha ayudado a miles de pastores
Una conferencia dinámica de un día, diseñada para otorgarle el conocimiento necesario para poder proteger su iglesia o ministerio, minimizar sus impuestos y asegurar que se mantenga en buenos términos con el IRS!!!
El seminario de Confirmidad Legal y Fortalecimiento de Ministerio empezó en Octubre del 2006 dando respuesta a los muchos pastores y lideres de ministerio que expresaron necesidad de asistir a una conferencia como esta. Por años, ministros y lideres nos rogaron que trabajáramos en una sesión adonde enseñáramos los puntos esenciales necesarios para operar sus iglesias o ministerios de acuerdo con las mejores prácticas posibles. Ellos querían estar en conformidad con las leyes del IRS y del estado y al mismo tiempo mantener la autonomía de la iglesia. Nosotros les escuchamos, y los resultados son un evento intensivo de todo el día que fortalece a los pastores y otros ministros para poder proteger sus iglesias y ministerios, maximizar los ingresos ministeriales, minimizar los impuestos, Y evitarse problemas con el IRS.
Conozca al Presentador de la Conferencia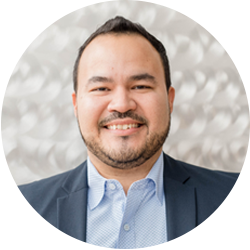 Lester Ruiz es un ministro ordenado con más de 15 años experiencia en el area de liderazgo ministerial y eclesiastico.
Lester siente la pasión de guiar y empoderar a los líderez de iglesias a que puedan establecer sus entidades sin fines de lucro correctamente y eficazmente dentro de los Estados Unidos.
Ademas de coferencista, Lester es el director de desarrollo de nuestro departamento en español donde ha tenido el privilegio de asistir a miles de pastores con conocimiento para que puedan seguir los requisitos nesesarios y estar en conformidad con las leyes del IRS. La habilidad de Lester de poder presentar información compleja de tal manera que es fácil de entender, y también con entretenimiento hace que la conferencia sea fantástica. Saldrá de esta conferencia entusiasmado y fortalecido!
Quien debe participar: Esta conferencia es especialmente crítica para los pastores, miembros de la junta directiva, administradores, asesores, contadores, tesoreros...y cualquier persona que tenga responsabilidad de la administración del ministerio, a si sea una iglesia o un ministerio evangelístico.
Que Puede Esperar del Seminario:
Como participante en la Conferencia de Iglesia a Conformidad de las Leyes y Poder para el Ministerio, usted recibirá:
Un día complete e intensivo de poderosa información. Esta es información esencial que usted simplemente no puede pasar por alto. El problema es que es muy probable que no escuche esta información en ningún otro lugar. Porqué? Bueno la respuesta es un bastante fuerte: En el mayor de los casos las profesiones legales y de contabilidad han ignorado por completo las necesidades de la comunidad de iglesias y ministerios. No es un centro de ganancias para ellos. Como resultado, la mayoría de los pastores e iglesias no poseen el conocimiento necesario para tomar la mayor ventaja de los beneficios disponibles para ellos. Y aun más preocupante es que la mayoría de las iglesias sin saber violan las leyes del IRS con regularidad...algo que en estos tiempos de alto escrutinio por parte del IRS es ciertamente muy peligroso.
Un manual de conferencia de 250-páginas para llevar a casa como referencia. Adicionalmente, el manual incluye direcciones en el internet para que pueda ir a casa y bajar las más de 300 páginas de formas necesarias, ejemplos de minutas, reglamentos de Iglesias, y más que usted necesitara para esta en conformidad. El manual de conferencia es su recurso para llevar a casa con discusiones más profundas de los temas que se explicarán, información extra acerca de tópicos importantes que no tenemos tiempo de cubrir en la clase, y muestras, plantillas, y formularios en blanco...muchísimos recursos...todo esto hará mucho más fácil la utilización del material y la información aprendida durante el curso. Nuestro manual de conferencia vale múltiples veces el precio de la conferencia!
Un almuerzo muy bueno...nosotros invitamos! Si es verdad, no solo alimentamos su mente y su espíritu, también le proveemos un almuerzo excelente seguido por un maravilloso postre.
La oportunidad de conocer y establecer contactos con otros líderes de iglesia en su área y a través de la nación. Los participantes nos han dicho incontables veces que aprecian mucho la oportunidad de conocer otras iglesia y ministerios en su área. Muchas veces observamos a los participantes conversando y cambiando tarjetas de presentación más de una hora después de que se acaba la conferencia.
La oportunidad de dialogar cara a cara con miembros del personal de Startchurch, y también con Raul Rivera, acerca de preguntas relacionadas con SU iglesia o ministerio. Porque Startchurch siempre ha sido una compañía con un fuerte énfasis en ministerio y relaciones con los pastores y lideres a los que sirve, valoramos mucho la oportunidad de hablar cara a cara con nuestros invitados.
Información que Aprenderá
Como maximizar los beneficios disponibles unicamente a ministros
Los requisitos de conformidad que usted no puede darse el lujo de ignorar
Los secretos para evitar las zonas de peligro del IRS
Porque empezar un CDC (Corporación de Desarrollo Comunitario) puede ser el mejor paso que haga su iglesia este año
Y mucho, mucho mas...
Nuevos reglamentos acerca del complemento de la vivienda y los reglamentos que lo hacen más complicado.
Que acerca de las minutas perdidas, y
Porque ciertas clausulas necesitan estar en sus reglamentos
Como pagar al pastor un estipendio o simplemente un complemento para la vivienda no es legal
Como establecer un complemento de vivienda deferido y un plan de retiro 403b para el pastor
Como proteger la junta directiva de una demanda o multas del IRS
Como crear un paquete de compensación de salario
Exenciones de Iglesias de los impuestos de remuneración
Como ahorra miles de dólares cada año en su declaración de impuestos
El propósito del W-9
Si, si o no hay que darle a un orador invitado una forma 1099
Qué hacer si tiene un orador invitado extranjero y como utilizar el tratado de exención de extranjeros
Como preparar las formas W-2 y W-3
Como preparar las formas 1099-MISC
Reporte del fin del año
Por que las Iglesias rompen las leyes cuando le pagan a los oradores invitados del dinero de las ofrendas
Como establecer las ofrendas de amor para el pastor
Los nuevos requisitos para emitir los recibos de la contribución. Las ofrendas en efectivo puede que ya no sean deducibles
La Sección 7611 del Código de Interno de Ingresos y el sitio web de su ministerio; como evitar los riesgos
Como preparar una declaración de impuestos para un ministro bajos las reglas especiales del IRS
Como crear un sistema para contar las ofrendas y diezmos semanales
Entender las nuevas sanciones y penalidades del IRS contra las iglesias
Crear un sistema contable de plan de reembolso de acuerdo a los reglamentos del IRS
Como crear un plan de benevolencia
Cuando puede el IRS comenzar una investigación en contra de la iglesia o de una organización sin fines de lucro
What do I do about the past years? How can I correct them?
There are ways to correct mistakes from the past. Get them corrected now, before an audit, and you will be OK.
Why pay thousands of dollars for an IRS compliance audit when you can do it yourself?
Learn how to do your own IRS compliance audit without the costs of attorneys or CPA's. Getting your ministry in compliance with state and federal regulation will protect your ministry from legal and tax trouble.
Does the new IRS rule regarding board of directors affect my church?
New rules for board of directors require a balanced board. Each member must sign a declaration stating their active participation as well as having equal voting power among the others. Learn the other rules for board members.
Are tithes and offerings deductible if the church has not filed for 501(c)(3) status?
According to new federal case law, offerings to a church that has not applied for 501(c)(3) status are no longer presumed to be tax exempt. They must file for 501(c)(3) in order to keep church members from losing their tax deductions in an audit or tax inquiry.
What about retirement for ministers?
Did you know that current tax law allows churches to set up life-time, tax-free income for pastors and ministers when they retire?
Do your church bylaws protect you?
A church in California decided that they needed to follow Scripture in removing some members from the church who were living lifestyles contrary to biblical standards. After being removed from the church, some of the members sued in court to be reinstated.
Can the church pay the pastor's gas?
If your church pays the pastor's gas to cover his/her ministry travel expenses, chances are you are doing it wrong. This could cost the church and the pastor trouble under a simple IRS tax inquiry.
How do you handle designated offerings?
Can the church get in trouble for using designated offerings for different purposes? Many churches do not know when using a designated offering for other purposes is illegal and when it is OK. These question will get answered in detail at the conference.
Did you know that...
A Community Development Corporation (CDC) could be the best way to raise all the funds you'll ever need for outreach? Many churches are doing it successfully! Learn how our founders did it and raised all the funds they needed to do all the church outreaches.
Recent court rulings make operating a church without 501(c)(3) a bad deal for church members!
One U. S. District Court ruled that members of a church without 501(c)(3) status cannot get a tax deduction under an audit. This is a bad deal for churches and members without 501(c)(3) status.
What about the newly passed Housing Allowance Clarification Act?
Most churches are not aware that the housing allowance has been rewritten by congress. Under the new rules, most churches are no longer doing it right. This can be costly to ministers across America!
Can a minister opt out of social security taxes?
Any minister who properly opts out of social security will still receive social security benefits when he/she retires if he/she has at least 40 credits applied to his/her account. Find out how to do it the right way!
What happens if the church fails to issue 1099 forms to hired musicians?
Under Section 7203, the church is required to issue a 1099-Misc to hired musicians and many others in the church. Failure to do so will result in fines to the church. The IRS is hot on this one.
Does Section 4958 allow the IRS to fine church officers?
Yes! Under Treasury Regulation 53.4958, the IRS can fine church officers and their family members severally up to $10,000.00 for mi-use of church funds even if it was unintentional. Learn how to protect your church officers.
Are reimbursements allowed in the church?
If your church or ministry pays out reimbursements without adopting a Section 62 reimbursement plan, those that receive the reimbursement have to pay income taxes on it.